Written By: Emily Cabrera, UGA IPM Communications Coordinator
Expert/Source: Ash Sial, UGA IPM Coordinator and blueberry entomologist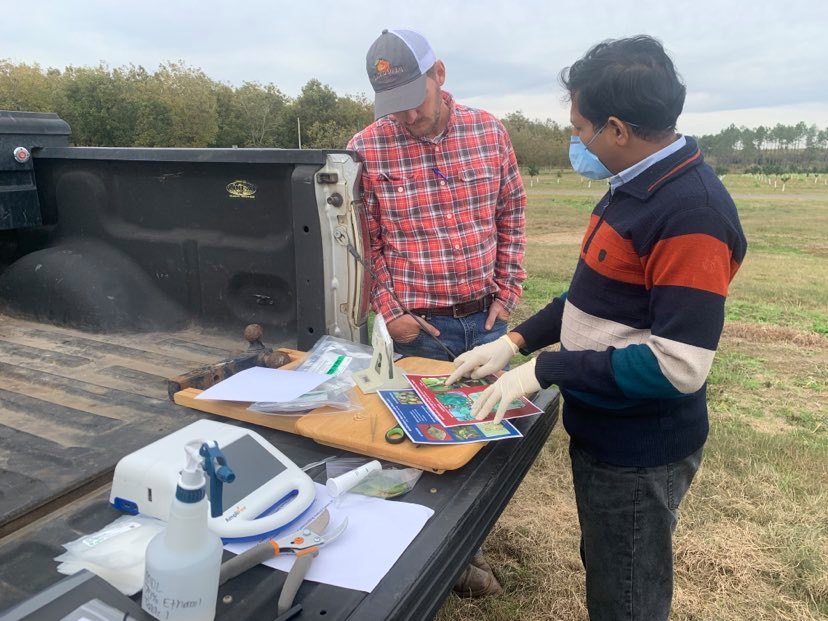 An impressive team of University of Georgia researchers just received $765,000 from the USDA National Institute of Food and Agriculture Crop Protection and Pest Management Program that supports the continuation of integrated pest management programming throughout the state over the next three years.
Dr. Ash Sial, coordinator of the UGA IPM Program and blueberry entomologist, serves as the primary investigator on the IPM grant and said this achievement has been his goal since he assumed the IPM Coordinator role in 2013.
"To my knowledge, this is the all-time highest funding amount the UGA IPM program has received, which is incredible because this is a highly competitive national grant," Sial said proudly.
The grant proposal, titled "Implementation of systems-based IPM programs in key production systems in Georgia" was ranked in the 'Outstanding' category and boasts a comprehensive approach to addressing some of the most significant challenges Georgia agricultural producers face across a wide array of commodity areas due to the uniquely hot and humid climate in the state.
The members of the UGA IPM team are a group of nationally recognized research scientists and Extension specialists who provide a critical service to the agricultural industry by delivering state-of-the-art IPM programs to effectively manage diseases, insect pests, and weeds.
The Extension and outreach programs offered by the UGA IPM team have helped growers adopt management programs that minimize crop losses due to pest issues. Over the next three years, the team will continue to work in partnership with Georgia growers to expand on existing management programs and develop new approaches that are more economically affordable, environmentally friendly, and sustainable for long-term implementation.
Members of the UGA IPM team joining Sial on the grant include Mark Abney, Emran Ali, Bochra Bahri, Brett Blaauw, Kris Braman, Phil Brannen, Bhabesh Dutta, Becky Griffin, Nancy Hinkle, Shimat Joseph, Bob Kemerait, Jonathan Oliver, Phillip Roberts, Amanda Smith, Alton Sparks, Babu Srinivasan, Sharon Kane and Emily Cabrera.
To learn more about Integrated Pest Management, visit the UGA IPM Program website at ipm.uga.edu or stay up-to-date with the latest happenings across the state from the UGA IPM Blogsite at https://ipm.uga.edu/.