Written By: Emily Cabrera, UGA IPM Communications Coordinator
Expert Source: Ashfaq Sial, UGA Blueberry Entomologist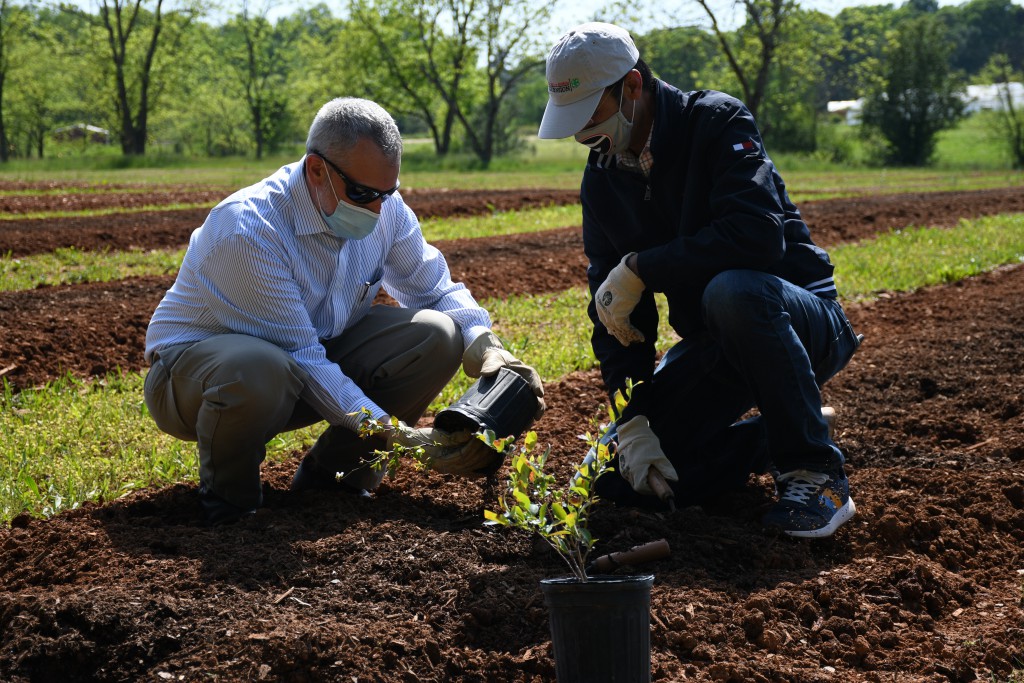 Native to North America, blueberries are the most recently commercially domesticated fruit in the United States. Just a little over a century ago researchers began studying this wild berry with an intent to develop improved varieties for commercial cultivation. Fast forward 100 years, the United States is now the world's largest producer of this 'super food', with Georgia ranking number one in acreage planted. Originally selected as a replacement crop for tobacco, Georgia blueberries bring in a little over $220 million dollars annually to the state's economy. As one of the state's most economically important crops, the research demands of this lucrative berry are more critical now than ever.
On April 26th, 2021, the University of Georgia College of Agricultural and Environmental Sciences Dean, Dr. Nick Place, formally inaugurated the newly established blueberry orchard at the UGA Durham Horticulture Farm in Watkinsville, Georgia – just a mere 10-minute drive from the main Athens campus. Dean Place planted the first blueberry bush in honor of the great potential this new research orchard will provide for helping meet the needs of our state's blueberry producers.
"This is a huge step toward increasing our ability to provide robust, timely, science-based solutions to our blueberry growers," said UGA Blueberry Entomologist Dr. Ashfaq Sial, who is based out of the Athens campus.
The newly planted orchard contains 1000 new bushes of five rabbiteye cultivars that were selected based on recommendations by Dr. Scott Nesmith, a UGA blueberry breeder, for a variety of characteristics that make them more suitable to the piedmont area. Planted cultivars include Alapaha, Brightwell, Ochlockonee, Krewer and Titan.
Sial explained that by far, the most economically damaging issue for blueberry growers is caused by the Spotted Wing Drosophila (Drosophila suzukii). "This pest is more problematic and costly than any pathogen or any other financial input required to grow blueberries – in other words, this tiny fruit fly is the most detrimental issue in blueberry production and therefore requires a great deal of time and effort to thoroughly research," emphasized Sial.
Historically, all of the University's blueberry research has taken place in south Georgia – primarily in Bacon county – where most of the state's blueberries are grown. However, in the last decade, blueberry production has been expanding into other parts of the state, with various varieties faring better in more northern climates.
"This new orchard will allow graduate students to conduct more in-depth studies without having to travel several hours away from campus while they are taking classes in Athens," explained Sial. "Furthermore, having a research orchard at the Hort Farm will help us conduct experiments that require more manipulation of the plants without regard to the economic loss of the crop."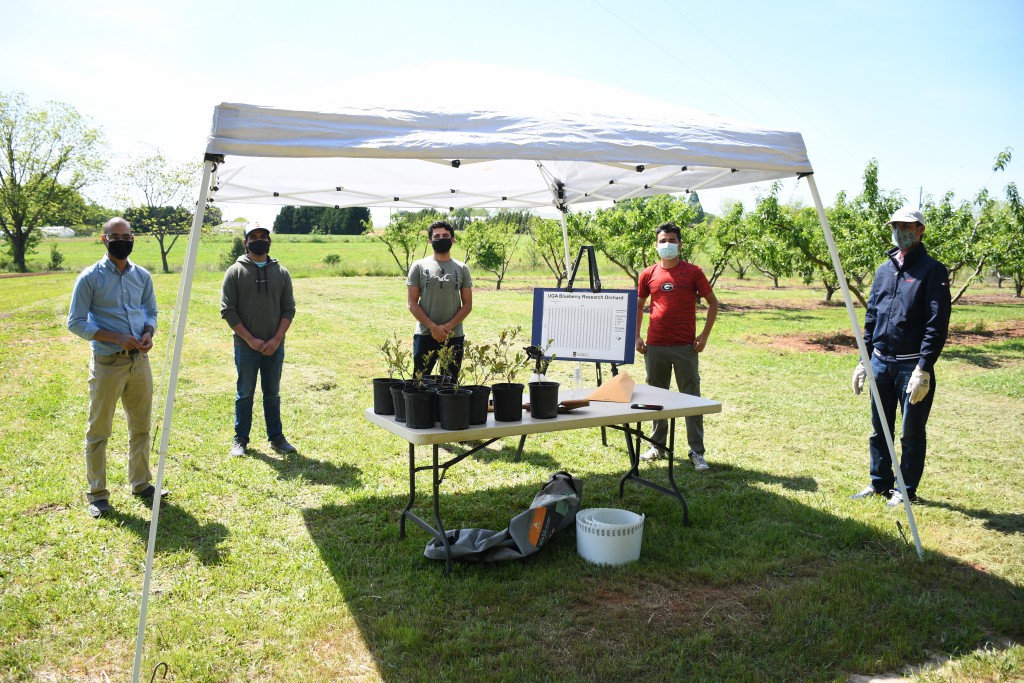 While new studies will begin taking place at the orchard in Watkinsville, Sial and his team will continue the applied aspects of their research in Bacon county and the other major blueberry producing counties in south Georgia where research has historically been conducted.

Sial is hopeful that this new orchard will bolster interdisciplinary research efforts that will ultimately help blueberry producers address the various issues they face. "This is the first-ever sizable blueberry orchard near the Athens campus that will be available to all UGA researchers. The goal is to conduct research that will help us develop sustainable solutions to problems facing blueberry production in Georgia for many years to come," said Sial.
You can learn more about blueberries by visiting the UGA Blueberry Blog at https://site.caes.uga.edu/blueberry/.